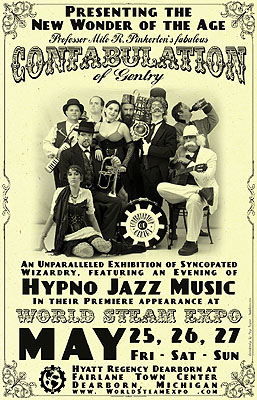 The Curious Case of the Confabulation of Gentry

May 27th 1912 - popular hypno-jazz ensemble The Confabulation of Gentry disappears mysteriously from a crowded theater.

May 27th 2012 - a band exactly resembling the original Confabulation appears onstage in a crowded hotel ballroom and proceeds to set the evening ablaze with danceable syncopated rhythms.

Is it all a coincidence? Mere theatrical triumph? Or is it, as some whisper, a dangerous musical experiment in time travel? Whatever the case, the Confabulation of Gentry is quite an entertaining spectacle, furnishing the sophisticated and yet strangely modern sounds of turn-of-the-century ingenuity! Based in New Orleans and fronted by millionaire inventor and philanthropist Prof. Milo Reginald Pinkerton, this band of adventurers was culled from far flung city and countryside alike across the Earth to unite in furthering Prof. Pinkerton's singular steam-powered vision: the excitement of audience ears, minds and feet. The group has vowed not to rest, until the entire world is dancing madly to their syncopated rhythms and humming their memorable melodies.


BIO:
The Confabulation of Gentry is a Dixieland/Ragtime band with a difference! Male & female singers mix with trumpet, trombone, tuba, xylophone, piano & banjo (and our secret weapon - a clockwork drummer) to provide an instant 'turn of the century' party for any occasion, with authentic upbeat danceable brass sounds that evoke old world New Orleans.

For larger shows, a carnival busker, magician, and dancers complete the picture to present an encompassing vaudeville experience!